So on Monday June 16th the City Council held a workshop to get a report of the first year of the water services contract with Veolia Water Services acting as Rialto Water Services. From the sounds of it this was something that Veolia did not want to publicized because on almost every account they are behind on the infrastructure improvements six months to one and a half years. Ullico is in charge of tracking and auditing the progress Veolia has made in the first year of the 30 year contract.
Marcus Fuller the Department Head from Public Works and Ullico worked very hard to turn a bad report into a better one but the city council, Mayor & Mayor Pro Tem all saw through the smoke and mirrors. Below you will see some of the slides Ullico presented to city council last week:
Here you will see that Veolia is one year five months behind on roughly 2 million dollars worth of improvements, eight months behind schedule on 3.6 million dollars worth of improvements & five months behind on 876 thousand dollars worth of improvements. Now Ullico wants you to give Veolia a break as they want to drag their feet and "get comfortable" with the contract they took on after American Water was kicked out of the deal by Rialto Residents and the Union that represented the water employees.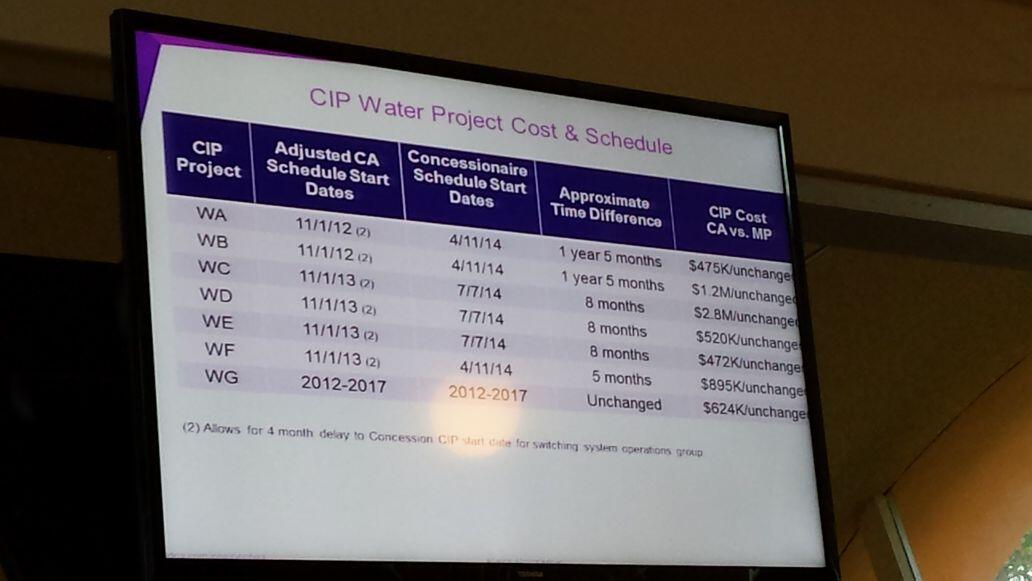 One major issue with giving them months and months to go over this infrastructure agreement is the 41 million will soon begin to be eaten up when interest rates increase. This means their will be less money to complete the long list of projects Former Mayor Grace Vargas, Former Councilman Ed Scott, Current Mayor Deborah Robertson and Current Mayor Pro Tem Ed Palmer all said were so vital to Rialto moving forward as a progressive city. Council Members told us these upgrades would be vital to major projects like the proposed Super Walmart & the Target Shopping Center that no longer has a Target store (Target has backed out). So what happens if Super Walmart goes in and the sewer system isn't able to handle the bump in use? There was talk of the sewers backing up and spilling out into the streets.
Councilman O'Connell asked the VP of Veolia if the interest rates caused the money to be used up prior to completion of the listed projects would Veolia see those projects to completion. The VP of Veolia said no.
So Veolia can drag their feet and tie up these projects in paperwork and read tape while the clock ticks and you continue to pay massive increases to your rates with NO CHANGE. Even their field techs, people that live and work in this city are blown away and say that Veolia is doing nothing!!!!
The end result was a motion to have Marcus Fuller, Public Works Director meet with Rialto Water Services and Veolia to get a expedited time frame of when we can see projects beginning the construction phase. Marcus Fuller will report the outcomes in 90 days from the meeting date.
We have reached out to Veolia VP Lanita McCauley Bates and Rialto Veolia Manager Michael Greene when they respond we will update with their comments.